The US Automate show unveiled at Detroit on May 22. In the exhibition, Dobot demonstrated its product strengths especially on high usability, safety and durability. All these allow robotic arms to be even more easily accessible and allowed everyone from around the world to experience firsthand Dobot Robotics' advanced design concept and technology.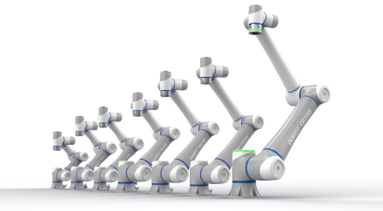 Solution 1: CRV500+ SafeSkin+ Graphical Programming
The brand new Dobot self-developed CRV500 Smart Camera incorporates a 5-megapixel camera and a LED light source with Dobot self-developed 2.5D spatial compensation technology to achieve ±0.5 mm positioning accuracy for applications such as grabbing slanted surfaces on objects and assembly for fixed positions and also transportation of AMMR robots and loading and unloading scenarios.
Capable with dealing with material positioning, gray scale measurement and other types of measurement. One robot, multiple functions.
It works with the graphical programming software DobotStudioPro to allow setting up solutions through quick guidance, saving time while improving efficiency.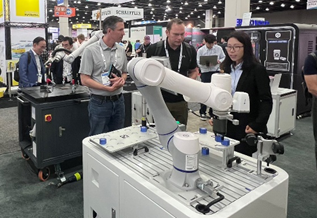 Solution 2: DOBOT CR10- AMMR Loading & Unloading
This solution adopts CR10+ vision which allows loading and unloading while moving and putting items at a specific point after picking up. The AMMR integrates the advanced SLAM laser navigation and the human-machine collaboration technology. It is capable of moving, grabbing and transporting all in one. It is also safe, and features a precise navigation and simple operation. A wide range of expandable ecosystem accessories support various application scenarios including wafer handling, loading and unloading packaging, power inspection and more to allow an efficient industrial automation.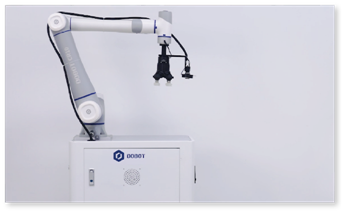 Solution 3: Metal workpiece weld seam polishing
After a metal workpiece is welded and formed, to ensure a smooth appearance, the weld seam needs to be polished. Manual grinding is prone to uneven strength, resulting in weld deformation, poor consistency, and may even damage the workpiece, resulting in low efficiency and high cost.
The DOBOT CR10 collaborative robot is equipped with a force-controlled grinding head, which can be ground with the best posture to ensure the quality of the workpiece to the maximum extent, and can achieve weld grinding of metal parts of different shapes. Dobot robots have are precise and have a high precision, which not only improves production efficiency, but also keeps workers away from dust.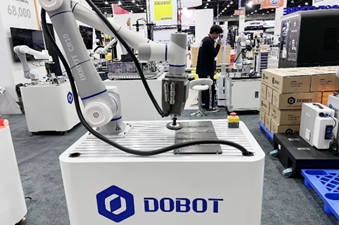 Solution 4: Smart mobile welding
The welding solution is formed by Dobot process packages, alongside with modular hardware. It supports linear, triangular, spiral, trapezoidal, sinusoidal patterns for diverse welding needs, which can be easily operated by graphical programming. It can weld different materials including aluminum, stainless steel, carbon steel and more for neat looking and undeformed weld seam. It supports welding machines made by Aotai, Megmeet, Flama, WeldTec, Fronius, EWM, LINCOLN, OTC/DAIHEN.
Solution 5: 20 kg Palletizing
This palletizing solution uses the DOBOT CR20A as the main body. It has a 20 kg payload and a working radius of 1,700 mm and a maximum palletizing height of 2,100 mm in the cycle time of 7 boxes per minute, dealing with palletizing tasks efficiently. With just 4 steps, users can complete setting up and operate easily. It also supports customizable palletizing shapes which satisfy different needs in various application scenarios.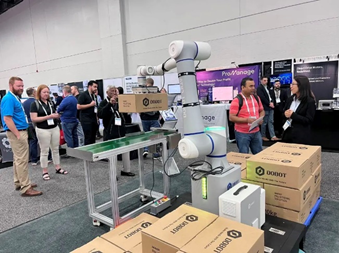 Solution 6: High precision screwdriving
The DOBOT CR5 and screwdriving process package can accurately lock and attach M1.0 to M5.0 screws with accuracy controlled within ±5% and cycle time up to 2.5s. It also supports operation in various angles and positions for various application scenarios.
By using the DOBOT self-developed screwdriving process package, operation process only takes 3 steps: screw picking, lock and attach and data upload, saving time for programming and enhance calibration efficiency by 80% in order to screw drive fast, stable and accurately.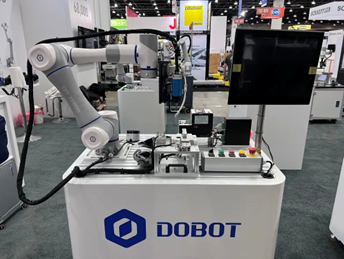 Solution 7: DOBOT Coffee Bar
The DOBOT Coffee Bar is a fully automated coffee mobile stand equipped with a DOBOT Nova 2 collaborative robot. It can deliver a cup of coffee in only 48 seconds. It can operate around the clock to deliver quality coffee as well as carry out automation processes such as cup picking, coffeemaking, latte art, cup delivery, cleaning and disinfection without any human involvement.
The coffee bar is mobile and occupies a small space, saving rent and making it easily deployable to crowded areas, which help to solve the issues of high manpower cost and unstable quality.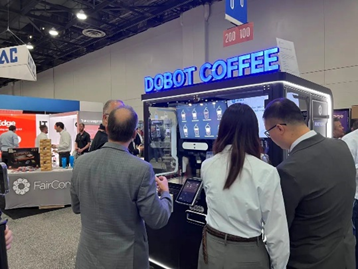 Solution 8: MG400 Training System
The DOBOT MG400 Robotic Training System is a learning equipment designed for vocational studies and higher education institutions which helps students learn about industrial automation control system function and its uses in depth.
This enhances their operational and hands-on ability. This training system can train on robotic programming and calibration, user coordinate system, coordination system, tool system, trajectory programming, dynamic grabbing, transportation and palletizing.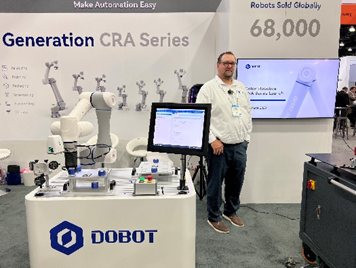 As a world leading smart robot manufacturing, Dobot has sold over 68,000 units to over 100 countries and regions. Dobot has also established subsidiaries in the U.S., Japan, Germany and other locations to stably improve its global network as well as being well-equipped for further local operation. By relying on its own production base, quick delivery can be ensured for cobots to enter thousands of industries.