The adoption of collaborative robots is on the rise. We foresee that some day in the future, collaborative robots will find themselves in the hands of consumers, where they cook meals and do laundries as people spend more time together with their families and friends. To get to that future, we need more professionals joining the field of robotics and automation, and that all starts with education.
Magician E6 Launch
For the first time in 4 years, Dobot launched the long-awaited new robot for the education sector, the DOBOT Magician E6 is a 6-axis collaborative robot for education and research. The launch event took place on March 29th at the Bett UK 2023.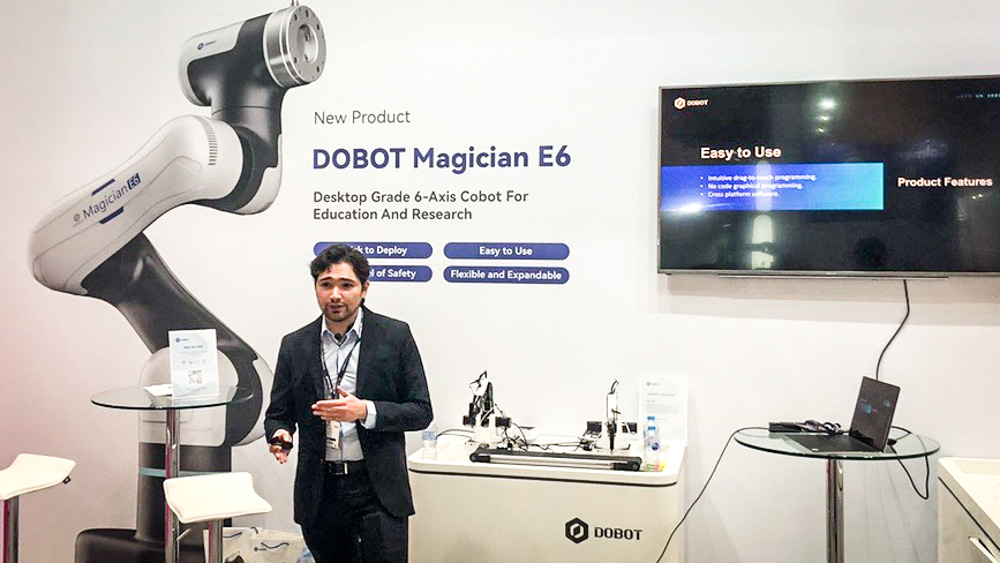 The Magician E6 has a 500 g maximum payload, 450 mm working radius and weights only 7.2 kg. What makes the Magician E6 unique is its industrial grade specifications: ±0.1 mm repeatability, TCP/IP and Modbus communication interface, and PLC. It can accurately simulate real world automation to bring relevant hands-on education to young learners and advanced students. With the launch of the Magician E6, Dobot will make available new course materials designed around the new robot, providing academic institutions a complete robotics education solution.
Collaborative Robot Farming Innovation by Dr. Vishuu Mohan
Following the launch of the Magician E6, Dr. Vishuu Mohan presented his agri-tech project SCARLETT (Scalable Robotic Harvesting of Lettuce).
Dr. Vishuu Mohan is an associate professor in robotics at the School of Computer Science and Electronic Engineering and Director of Employability at the University of Essex. His work on robotics is being applied through numerous industrial projects in the areas of agri-food, manufacturing and healthcare robotics.
Project SCARLETT
The SCARLETT project reimagines automotive assembly lines with lettuce replacing the cars on a farmland, to use robotic arms to transplant lettuce from small floating rafts to large floats. Then, pick and place lettuce from the large floats into the pool. After that, transfer fully grown lettuce from pool to flume. Finally, cut the root of the lettuce and place it onto conveyor belt for packing.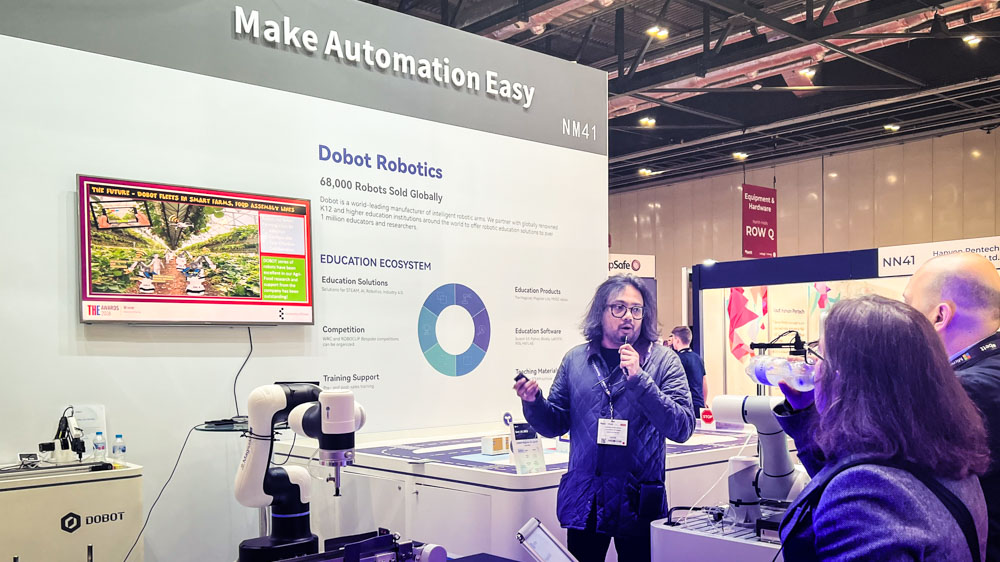 Dr. Mohan has selected the DOBOT CR10 for the project, citing its advantages in repeatability, working radius, software, cost, collaborativity with SafeSkin, and the support from the Dobot. Mohan's team was able to quickly integrate cameras onto the CR10 and use artificial neuro network to enable robot learning of human elbow and hand movement to achieve reaching accuracy of 1.2 mm mse with a standard deviation of 2.3 mm.
With the smooth progression of SCARLETT, partially contributed by the reliable performance of the CR10, Dr. Mohan's team will explore more smart farms using Dobot robots, including a strawberry picking research project using MG400 robots on AMRs.
Demo Showing at Bett UK
We appreciate all the people who visited our booth to discuss incorporating Dobot robotics education solution into their academic curriculum. To those who were not able to make the event, below are the demos we showed in addition to the Magician E6.
MG400 Training System
The MG400 Training System is equipped with a vision, PLC controller, conveyor belt and emergency stop modules to help students learn about industrial automation through physical simulations.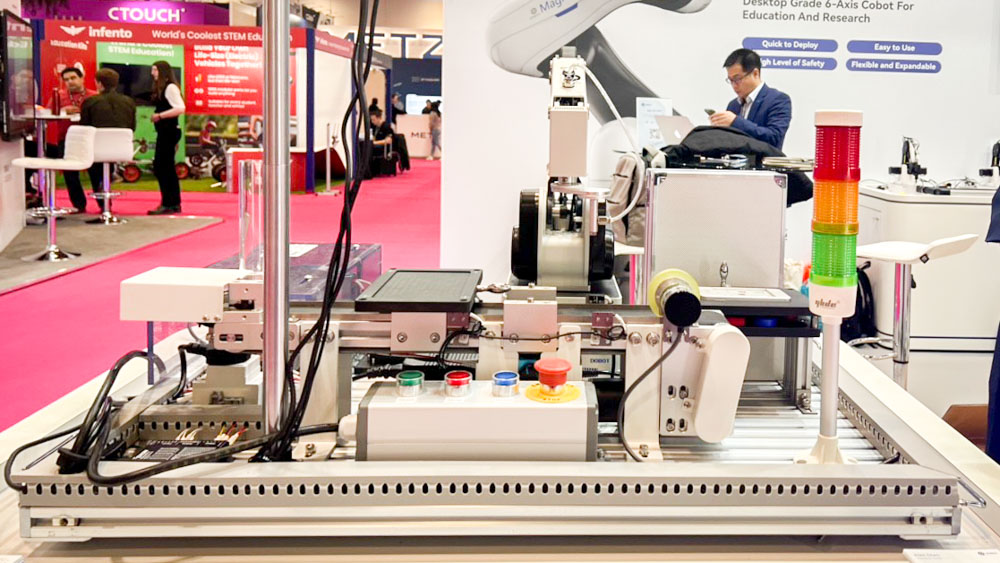 Assembly Line Sorting
2 DOBOT Magician robots and a mini conveyor belt are used to simulate sorting at an industrial assembly line. One Magician grabs objects and put them onto the start of the conveyor belt, while the other Magician at the other side uses its sensor to detect the color of incoming objects and sort them accordingly off the conveyor belt.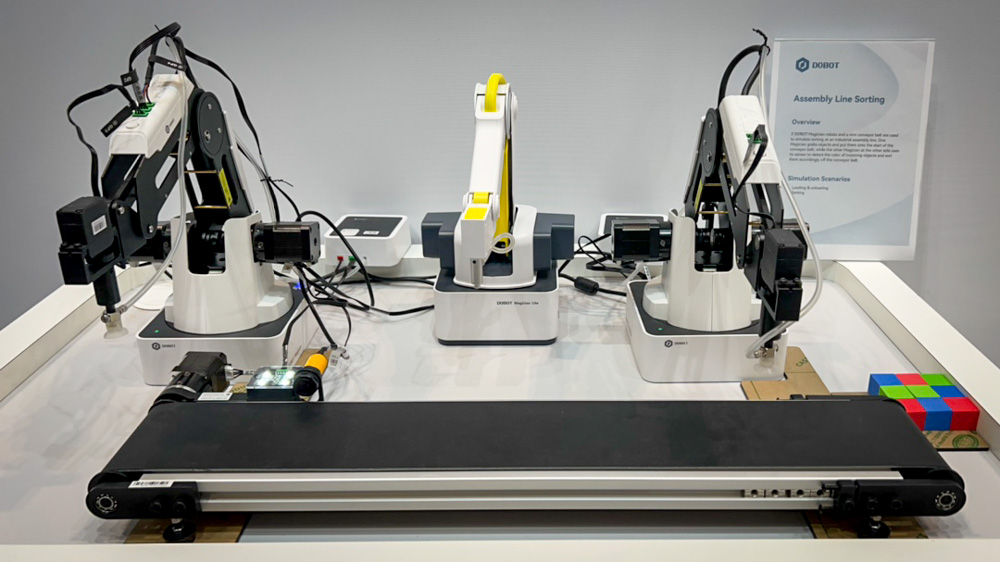 SIM Card Bin Picking
A DOBOT CR3 is equipped with a vision system to identify the position and orientation of the sim cards, and to accurately pick them out and place into an orderly tray. The CR3 is the smallest robot model in the DOBOT CR series. It is widely used in manufacturing processes and can also be used for education and research purposes.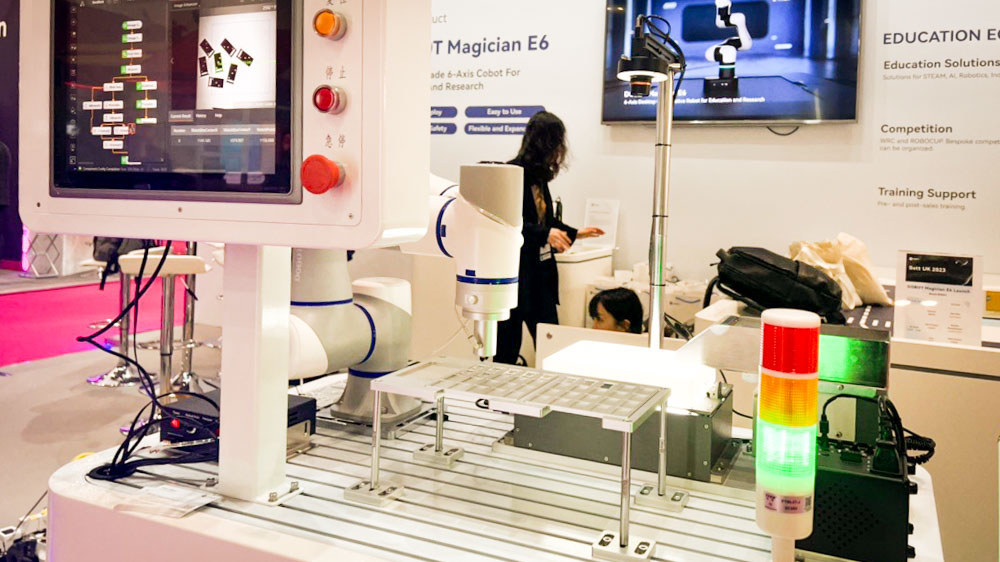 Smart City Simulation
A DOBOT Magician Lite is combined with the DOBOT Magician Go to carry out trash sorting and unmanned supermarket tasks in a simulated smart city environment. The DOBOT Magician Lite is a robotic arm for K12 education. It has a variety of sensors and accessories to allow students to design numerous automation workflow. The DOBOT Magician Go is a mobile platform made for AI+STEAM education. It has omnidirectional Mecanum wheels for incredible mobility, and 2 vision sensors to AI capabilities.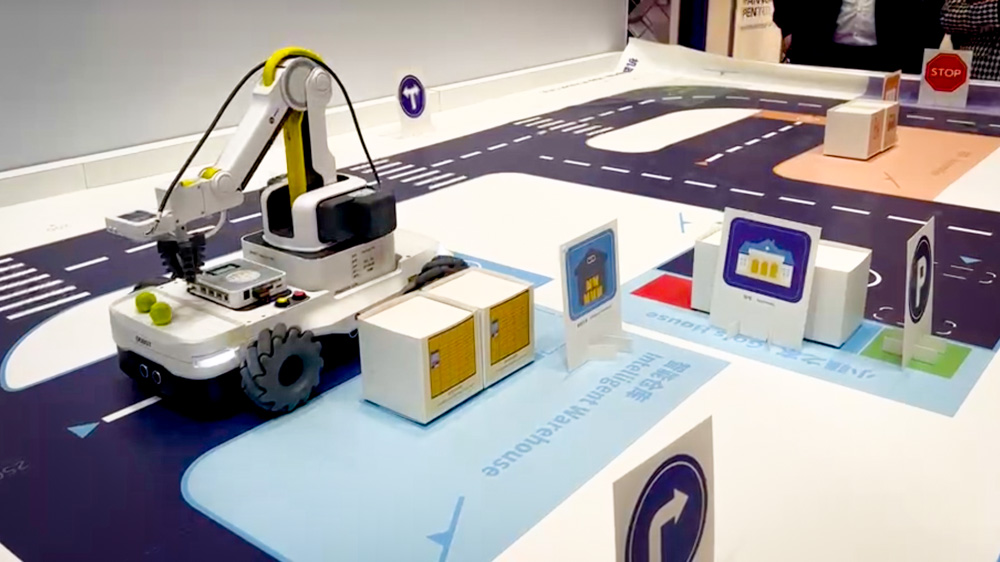 See You in Germany
Dobot will be at Hannover Messe from April 17th to 21st, where we will unveil a brand new collaborative robot for industrial use. Our experts will be ready to guide you through our demos and product line up to see how to help you improve workplace safety and production efficiency. See you at booth #H6-F60.