In AI times, robotic arms have been developed to satisfy users, educators, and small-scale manufacturers. On the market, a lot of robot arms are available. For instance, there are simple arms, complex arms, affordable robot arms, and more expensive alternatives for robotic arms. Some entry-level robotics arms are easy to be manipulated, even kids can operate.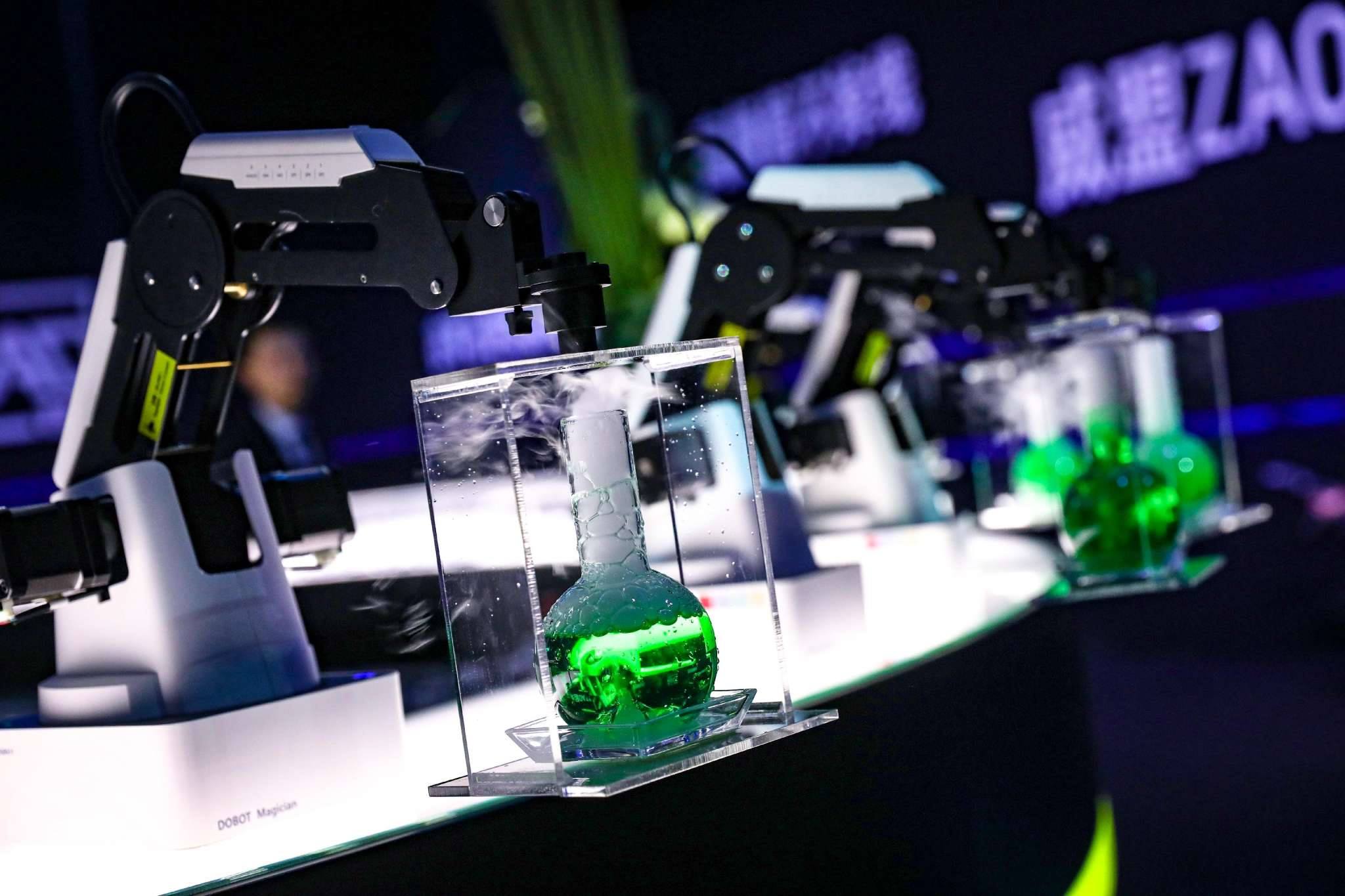 Nowadays, in some primary, secondary, and high schools, robotics curriculums can interest students in the innovation area. Experience in manipulating robots may build their passion for AI, and even influence their career choice in future employment. Thanks to its durable and solid body design, there is no need to worry about if it breaks down or smashes into pieces.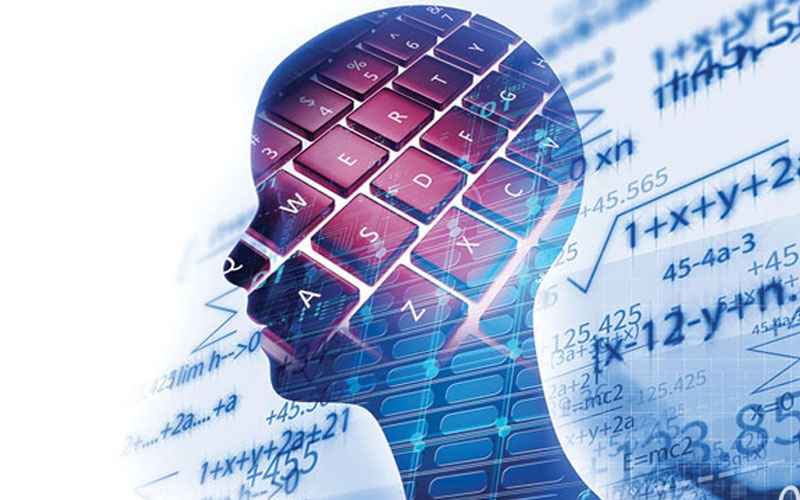 How to Choose a Perfect Robotic Arm in Education
When choosing a robotic arm, there are several elements needed to be considered.
The first thing to consider is the robotic arm applications, that is to say, what they can achieve. This is totally depending on your actual needs. Some robot arms are possessed with multi-function, such as writing and drawing, 3D printing, pick & place, etc. Others may have just one function. Knowing your purpose of using a robot arm will quickly exclude some needless robotic arm options and reduce the range of the products.
In robotics, an axis can be explained as a degree of freedom. Axes numbers of robotic arms depend on the number of motors. Usually, three axes stand for the X-Y-Z axes. A 3-axis robot arm cannot tilt or turn. A crane is a good example of a 3-axis robot arm. A robot with more axes can access more space. Every robot has several axes that cannot be added after purchase. A simple 4-axis arm will be enough for the pick and place requirements. However, if the arm needs to reach every location available in space, then a 6-axis robot arm will fit your educational needs.
Repeatability means that a robotic arm can record movement and repeat it exactly. The repeatability range of most robot arms is about 0.5mm; sometimes, the range is even more. For instance, if your robot is used to taking part in a flow line, then an easy-to-operate and the repeatable robot is the best choice. However, if your purpose is far different from this, you should not mind the repeating capability of a robotic arm.
Here are five available high-quality robotic arms. Let us look at the one that is the most suitable for your needs.

5 Robotic Arms that Suit Educational Needs
1. DOBOT Magician-All-in-one robot arm with 13 extensible interfaces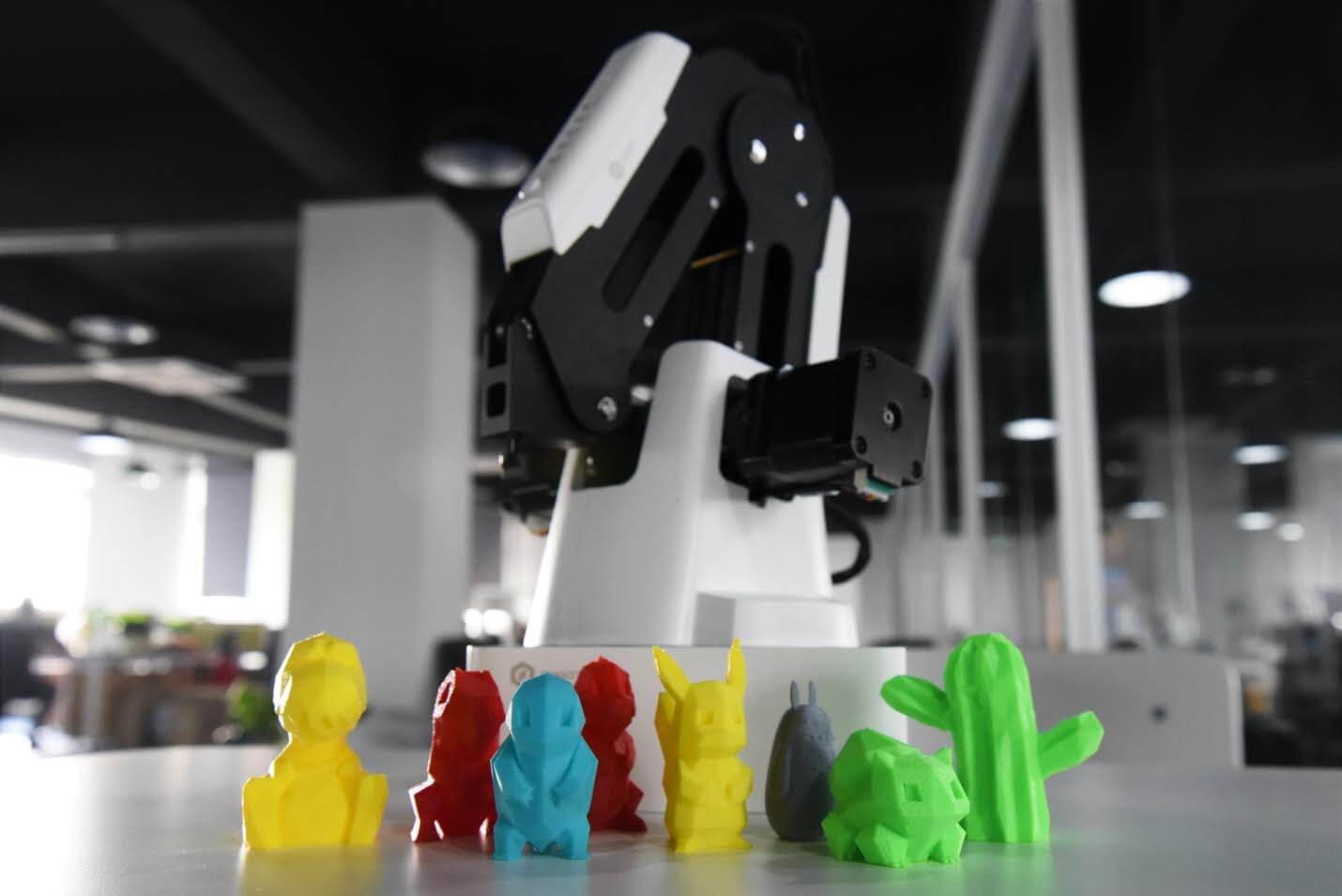 The DOBOT Magician is a multiple functional desktop robotic arm that can perform various functions, such as writing & drawing, 3D printing, pick & place, etc. This 4-axis robotic arm is perfect for active users, educators, and small-scale studios. Its interaction software Dobot Studio controls the DOBOT Magician with several clicks. The high-quality aluminum alloy 6061 and ABS Engineering Plastic give users a significant experience when using it. The Arduino-controlled stepper motors ensure they complete tasks more precisely. Users can control the arm using Bluetooth via a smartphone or PC.
In addition to its basic functions, 13 extensive interfaces, and 20+ programming languages of Magician, it provides users with a secondary development.
There are two extended features of the DOBOT Magician: Leap Motion Kit and Blockly.
How to realize leap motion control with Magician?
Firstly, connect the Leap Motion module to the PC through a USB cable. Download the leap motion drive and install it. When finished installation, set up the equipment and open Dobot Studio. Click "Leap motion" and enter the main surface. Through a leap motion, you can start, turn the palm up, stop, set speed, and scale ratio through certain gestures.
What is Blockly?
First of all, we need to learn about the Blockly concept. Users can code in a puzzle format, which is quite simple. Dobot offers an integrated API as an alternative. Open DobotStudio and click DobotBlockly to enter the Blockly interface. The interface consists of 5 areas, where you can open and save files, return back home, have an emergency stop, run log and general code, logic & match, and the main window of Blockly programming. You need to customize the settings to enable the robotic arm to move accordingly.
2. 7Bot-6-axis robot arm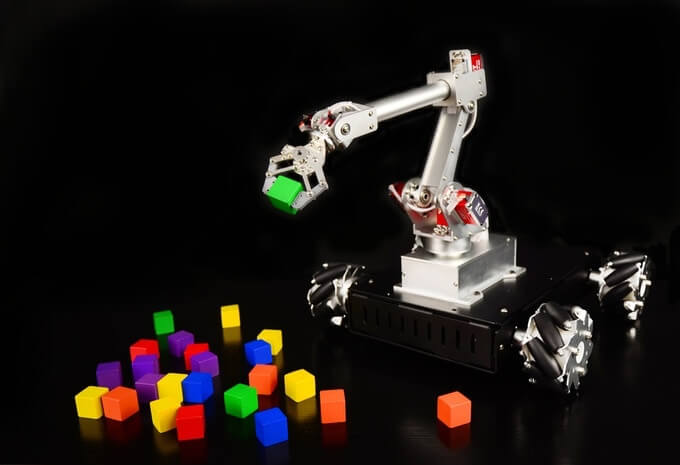 7Bot is a six-axis robot arm consisting of an aluminum frame. Its high torque motor adapts 24W servos of steel gear, which provides a stunning stable operating platform. The servos allow position repeated with 0.18-degree accuracy. It can be connected with options for a vacuum cup gripper or a two-finger gripper.
7Bot has a user-friendly design with an ergonomic body. You can teach a robot manually directing it. If you want 7Bot to imitate and copy your movements, you need to use the PC version to control them. It can also divide objects according to colors, just after programming. It supports secondary programming and an API for more advanced control.
3. FLX.ARM from Flux Integration-Effective robotic arm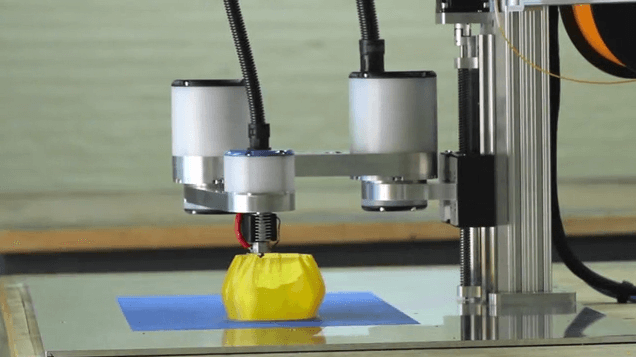 FLX.ARM is a highly cost-effective and precise robotic arm equipped with 3D printing, electronic setup, and calibration. Only in combination with the FLX.CTL control hardware, you can make the most use of FLX.IDE robot arm. Different heads represent different functions; the arm has been programmed to quickly switch between these heads
4. Desktop multifunctional robot device Makerarm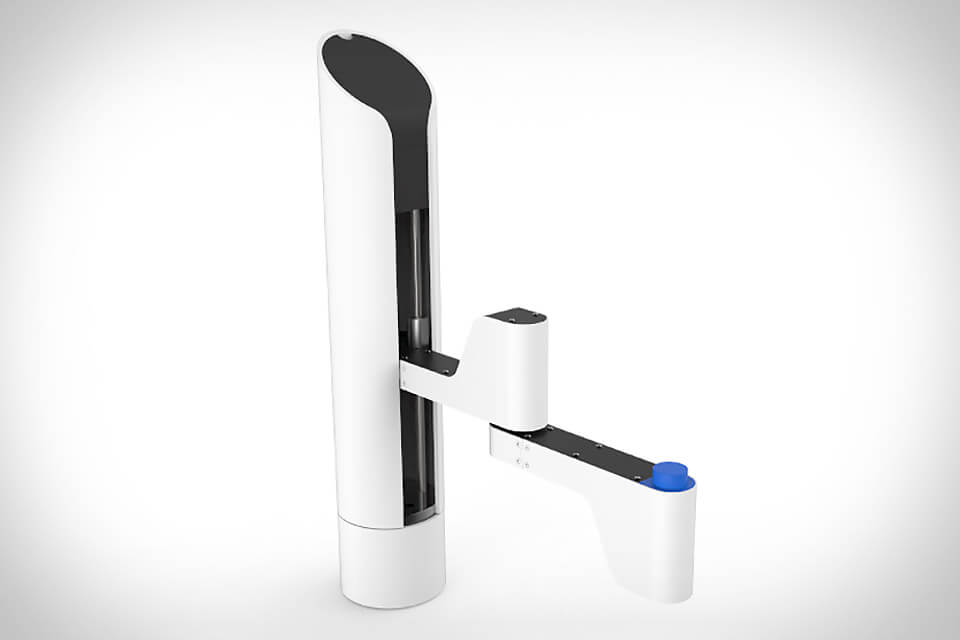 Makerarm is an all-in-one multifunctional robotic device. It is merged with 3D printing, writing, drawing, laser carving, CNC engraving, PCB fabrication, etc., satisfying customers' various requirements.
Makerarm's base is small enough so that it can fit the desktop. Exchangeable tool-heads enable to switch between functions with ease. The robot arm can be connected via Wi-Fi, so you can control it even wirelessly from anywhere. Thanks to its auto-leveling feature, its operation places have no particular conditions. It can work on any flat surface.
5. Evil Minion Robot Arm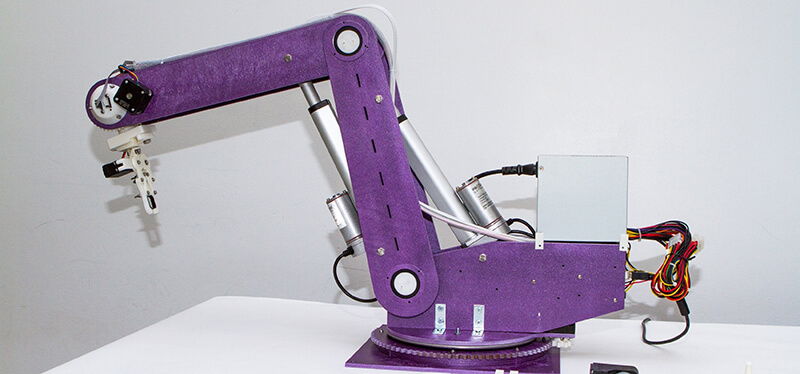 Evil Minion Robot Arm is designed by a Marginally Clever company owned by Dan Royer. Dan believes that human beings will leave our planet in the end. He has a plan to establish automated factories on the Moon on his wish list. To achieve this aspiration, high-quality and low-cost robot arms are essential to assembling factory equipment components. Marginally Clever intends to design an educational robot arm with open source and open hardware features. Users can purchase both three-axis and five-axis robot arms on their website. A five-axis robot arm was displayed at the TELUS World of Science in Vancouver.