Recently, the Equipment Industry Development Center of the Ministry of Industry and Information Technology (MIIT) and the China-Europe Association conducted a research visit to Dobot. The delegation, including representatives from MIIT and the China-Europe Association, were welcomed by the CEO Jerry Liu and department heads of Dobot. During the visit, the team toured the Dobot's showroom and learned about the company's history of innovation and vision.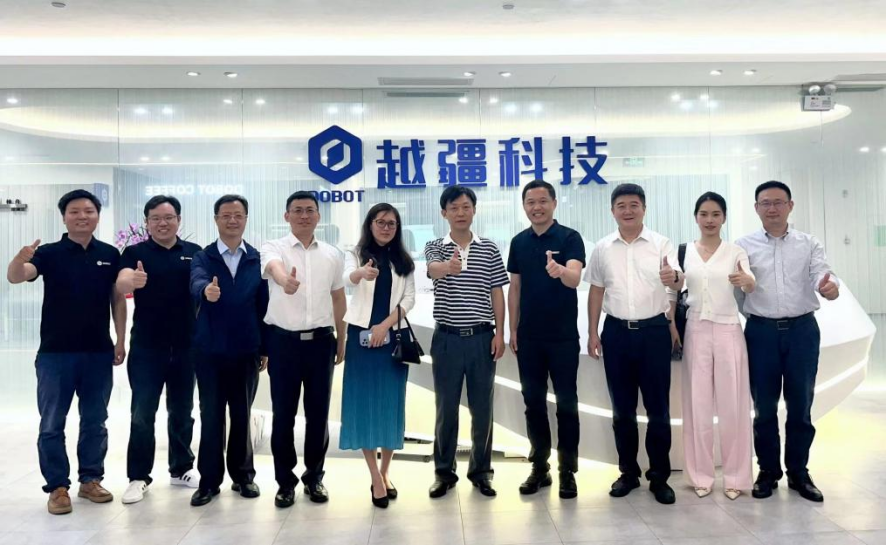 The delegation praised Dobot for its remarkable achievements in robotics technology, product innovation, and application development. They emphasized the importance of technological innovation in driving the growth of the equipment industry, and acknowledged the significant contributions made by Dobot in this regard.
Europe is one of the most important markets for robot application. More and more SMEs see the potential of robots in improving productivity and cost reduction, and are beginning to use robots to assist humans. Dobot is also increasing its layout in the European market. In addition to setting up a branch office in Germany, it is also actively cooperating with local enterprises and organizations to strengthen localized services and provide assistance to SMEs in their digital transformation and business development.
As an outstanding enterprise in the field of equipment manufacturing and technological innovation, Dobot launched the world's first desktop robot in 2015, and quickly achieved success in overseas markets. Immediately after, Dobot continued to adhere to independent research and development, launched numerous lightweight collaborative robot product series and became the first robotics company in the industry with a full production lineup of 0.5-20 kg payloads. It was recognized as a national key "little giant" enterprise. To date, the company's cumulative shipment number has reached near 70,000 units for 5 consecutive years and has become the first domestic brands of industrial robots in terms of export volume.
Robots are a crucial piece of advanced manufacturing equipment. It is a crucial metric for assessing a nation's level of high-end manufacturing development and scientific and technological innovation. We won't have more voice in the upcoming global competition until we master robotics and other related technologies. Dobot has successfully promoted the application of robotic products in more industries, increased the market share of Chinese robots globally, and mastered a number of core robot technologies like control system, servo drive, and safety perception. Dobot also boldly innovated in human-machine collaboration, further lowering the operation threshold of robots.
This visit holds significant value for Dobot, as it recognizes the company's technological leadership and innovative achievements in the field of robotics. It presents a favorable opportunity to further promote Sino-European cooperation and exchanges in the robotics industry. At present, Dobot Robotics has set up branches in Japan, Germany and the US, actively promoting its globalization layout and accelerating the localized business strategy. In the future, Dobot Robotics will further intensify its innovation and development to help China's equipment become bigger and stronger, and through localization, it will better understand and meet the needs of customers around the world, provide efficient, comprehensive and professional service support, and continuously maintain its leading position in the world!