Table of Content
1. Why Manufacturers Choose Assembly Robot
2. What Factors Influence the Choice of Assembly Robot
3. How Dobot Assembly Robot Impacts the Industrial Scope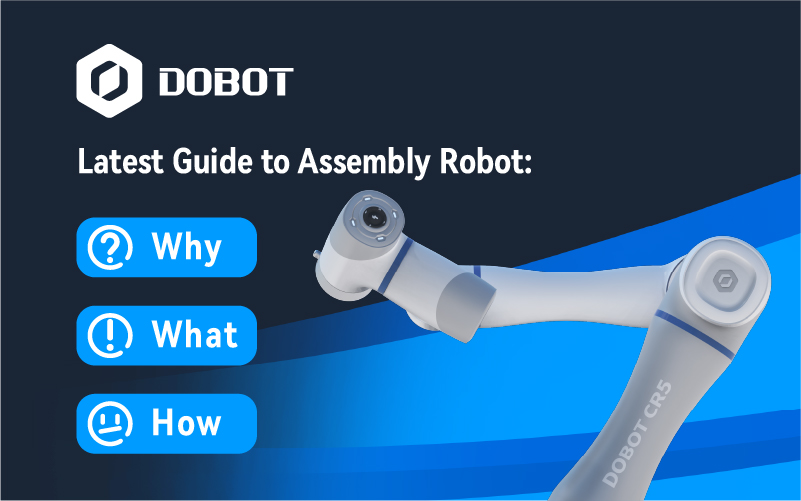 Today, we have assembly robots to construct and build the robot assembly line. It is based on a robot or robot arm, creating various products from large-scale to small items.
According to Statista, 7,000 assembly robots are going to be shipped in 2022, making the second cobot shipment volume across applications after material handling (9,600 units). They save time by accelerating the speed of operations and ensure reliable quality with no errors.
But let us look at some historical moments of assembly line production to understand the development and emerging factors of assembly line robots better.
Let us travel back to times of the 20th century when Henry Ford installed the first assembly line for car mass production in 1913. More than 100 years passed, and today, in 2022, we still deploy assembly lines. At that time, it was a revolutionary discovery in manufacturing that changed the future of assembly lines and enabled speed up future production.
This innovation allowed Ford to decrease the time for the production of one car from 12 hours to 1 hour and 33 minutes.
Now it leads us to a new stage of development - a rising role in robotic assembly. More and more manufacturers prefer an innovative way of transforming their production lines.
Here is the outlook of reasons, perks, and ways of automating assembly systems using robotics.
---
Why Manufacturers Choose Assembly Robot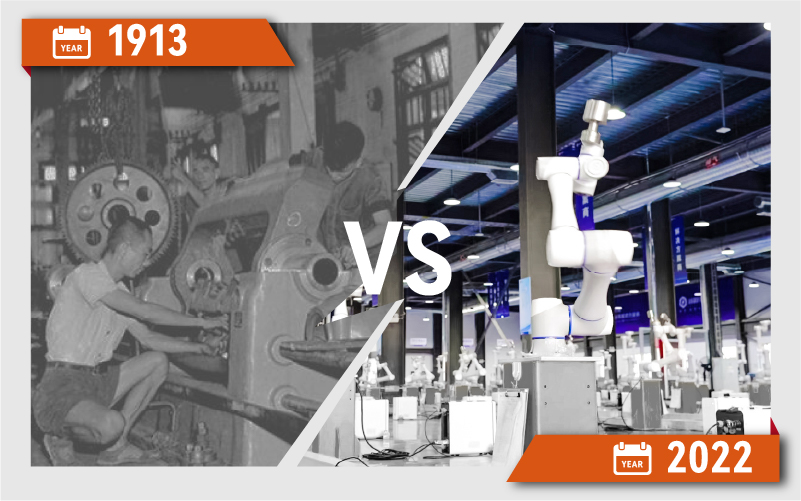 An assembly robot is a collection of values. It provides reliable quality and precision. Manufacturers choose a fast and accurate assembly line robotic arm because of:
Assembly robots get a flexible work range, repeatability, and payload. Thus, a flexible assembly line robotic arm enables manufacturers with increased production volume and optimized workflow, as it can operate various processes without the need to invest in traditional automation.
Robotic assembly systems enable manufacturers with a high level of safety. Workers cannot perform heavy tasks, as it would cause multiple injuries in a car plant. Assembly robots should handle these heavy tasks, because they reduce the risk of injuries, eventually increasing performance.
An assembly robot provides a cost-effective solution for manufacturers and enables the long-working hours of robots, as they can operate 24/7. The extended working hours lead to increased production output. Hence, the highly efficient robot performance enables the low robot assembly cost unlikely to traditional automation.
Considering reasons for moving manufacturers will help understand the factors affecting the choice of purchasing an assembly robot.
What Factors Influence The Choice Of Assembly Robot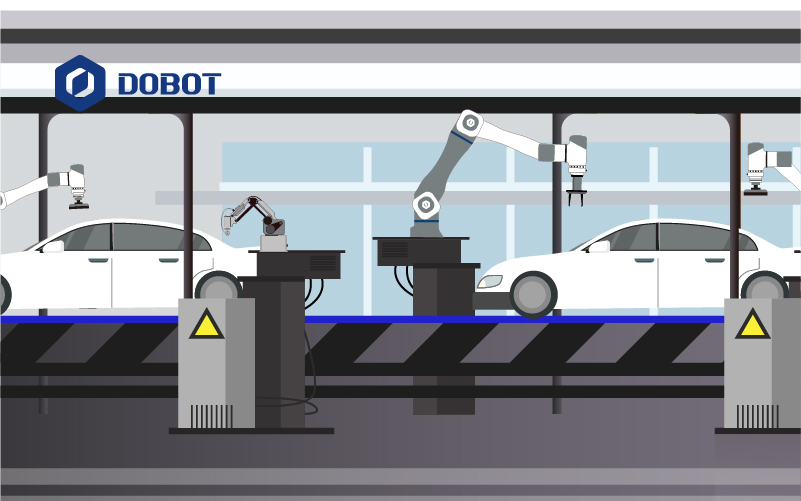 One of the factors having a severe impact on the choice of assembly robot is its speed. Depending on the application task of production, a different speed of the robot arm is required. That is why the manufacturer's choice of assembly robot is determined by speed demands and hence, the robot's limitations.
The specifics of the assembly line are complex, setting multiple limitations on deploying robots in assembly. The choice of production lies in the opportunity to navigate across small, intricate parts at sufficient speed.
Thus, collaborative robots are the reason why many manufacturers deploy them on an assembly line in different industries. Flexible and safe 6-axis cobots can handle the pressure of assembling small parts.
Depending on the application you plan to use in production, it is vital to identify whether an assembly robot has to obtain a high payload and a long reach.
<<
SCARA robots are perfect for lightweight, high-speed application tasks, while 6-axis robot arms are suitable for more flexible and heavy tasks, reaching a payload of 3 to 16 kg.
Understanding manufacturers' choice of assembly robots will help us consider the ways of their influence on the industrial variety.
How The Dobot Assembly Robot Impacts The Industrial Scope
Dobot cobots are cost-effective and reliable. They can outpace human workers by increasing production and high-quality free of errors. They solve various automation challenges that might come in the way of fast production, including safety concerns, one process failure, etc.
Dobot cobot is a professional robot assembly arm, having strong expertise in rich industrial scope, including not only car manufacturing but consumer electronics, healthcare, food and beverage, and others.
Robotic PCB assembly is an example of how the DOBOT MG400 robot arm can eliminate small parts' safety bottleneck for the manufacturer:
One of the ways how the Dobot assembly robot can extend industrial scope is the DOBOT M1 Pro SCARA robot arm performing PCB board burn-in assembly line handling in consumer electronics.
Our case story is an innovative concept of the successful transformation of conventional production into automated assembly lines. With the help of the DOBOT M1 Pro cobot, our customer managed to save costs of traditional manufacturing and grow efficiency by 50%.
Create a robotics assembly line to transform the future with Dobot.